Calaveras County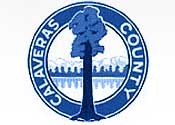 Calaveras County, a rural county located in the Gold Country area of California, is a location well known for its tourism and spectacular attractions such as Calaveras Big Trees State Park, Moaning Caverns, Mercer Caverns, and the annual Jumping Frog Jubilee. The geography provides ample vineyards for the wine industry, which plays a part in the county's economy. There are 1037 square miles in the county and the county seat is San Andreas. Major highways through the county are State Routes 4, 12, 26, and 49.
The county is divided into three exclusive operating areas for the provision of ambulance service. American Legion Ambulance provides services in the North and South Zones and Ebbetts Pass Fire District serves the East Zone. The Calaveras County Sheriff's Department provides the dispatch for all ambulance services within the county. Fire first response agencies are dispatched by CalFire in San Andreas. Advanced Life Support first responders provide patient care in the East Zone, by Ebbetts Pass Fire District and in the Southwest portion of by county by Copperopolis Fire Department. The remaining fire departments provide basic life support first response services. Patients are typically transported to Mark Twain St. Joseph's Hospital in San Andreas or Sonora Regional Medical Center in neighboring Tuolumne County.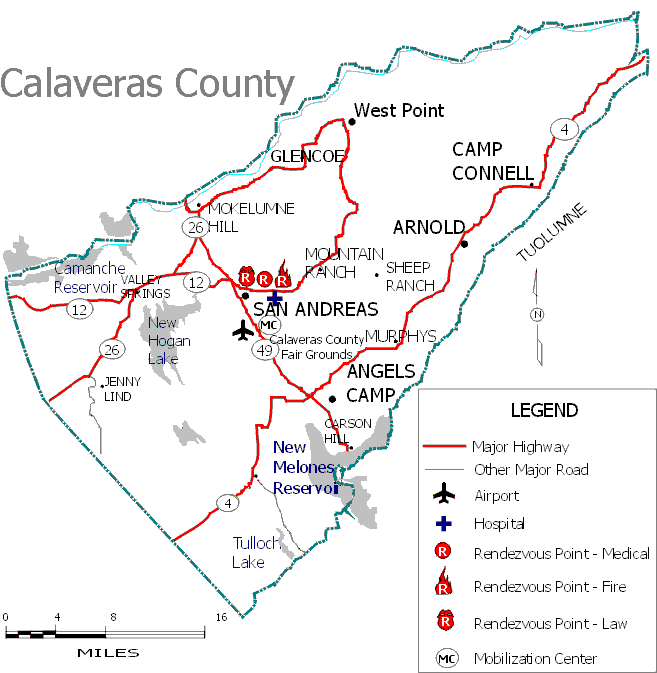 Dispatch Agencies
Calaveras County Sheriff's Department
891 Mountain Ranch Road
San Andreas, CA 95249
209-754-6500
http://www.co.calaveras.ca.us/departments/sheriff.html
Cal Fire ECC – Camino – Fire
785 Mountain Ranch Road
San Andreas, CA 95249
209-754-3831
Fire Departments
Altaville-Melones Fire Department
P.O. Box 431
Altaville, CA 95221
Cal Fire
785 Mountain Ranch Road
San Andreas, CA 95249
209-785-3831
Calaveras Consolidated Fire Protection District
6501 Jenny Lind Rd.
Valley Springs, CA 95252
City of Angels Fire Department
P.O. Box 667
Angels Camp, CA 95222
209-736-4081
Copperopolis Fire Protection District
P.O. Box 131
Copperopolis, CA 95228
209-785-2393
http://
Ebbetts Pass Fire District
P.O. Box 66
Arnold, CA 95223
209-795-1646
Murphys Fire Department
P.O. Box 1260
Murphys, CA 95247
209-728-3864
San Andreas Fire Protection District
P.O. Box 88
San Andreas, CA 95249
209-754-4693
West Point Fire Protection District
P.O. Box 417
West Point, CA 95255
209-293-7000
Ambulance Providers
American Legion Ambulance
P.O. Box 100
Sutter Creek, CA 95685
209-223-2963
Ebbetts Pass Fire District
P.O. Box 66
Arnold, CA 95223
209-795-1646
Air Ambulance Providers
PHI Air Medical
801-D Airport
Modesto CA 95354
1-888-435-9744
Cal-Star
12151 Airport Road
Jackson, CA 95642
209-267-5082
http://www.calstar.org/service/jackson.aspx
Air Methods
1329 Spanos Court
Modesto, CA 95355
209-572-7199
REACH
6364 South Lindbergh Street
Stockton, CA 95206
707-324-2499
Hospitals
Mark Twain Medical Center
768 Mountain Ranch Road
San Andreas, CA 95249
209-754-3521
http://www.marktwainhospital.org
Sonora Regional Medical Center
1000 Greenley Road
Sonora, CA 95370
209-532-5000
http://sonoramedicalcenter.org/
Disaster Control Facility
Mark Twain Medical Center
768 Mountain Ranch Road, San Andreas 95429
Medical Rendezvous Point
Health Department
891 Mountain Ranch Road, San Andreas
Law Rendezvous Point
Sheriff's Office
891 Mountain Ranch Road, San Andreas
Fire Rendezvous Point(s)
County Fire
891 Mountain Ranch Road, San Andreas
Mobilization Center
Fairgrounds
2465 Gun Club Road, Angels Camp
Calaveras
Population: 44,796
Square Miles: 1,677.2 - 28% of Square Miles in Region